Platinum TE Paspalum

Platinum TE Paspalum, introduced in 2007 by Turf Ecosystems and Dr. Ron R. Duncan, revolutionized the world turfgrass market. Just a few years later, Platinum TE now covers the globe with over 100 projects on six of the seven continents, more than any other commercially grown paspalum. This genetically improved paspalum is perfect for installation tee to green. Environmentally sustainable and salt tolerant, Platinum TE is ideal for both new construction and renovations, providing superior appearance, playability and maintenance benefits.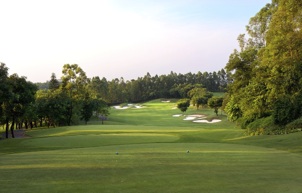 Platinum TE on the renovated greens of Agile Golf Club in Zhongshan, China (photo by Tom Breazeale)
Product Features:
Shiny, exceptionally dark green color
Very fine leaf texture
Exceptional canopy density
Tolerance of a wide range of mowing heights, from low-cut greens to tees and fairways, removing contamination issues when used from tee-to-green
Outstanding low-light-intensity and shade tolerance, especially useful in the conditions regularly found in southern and central China and most of Vietnam
Excellent general foliar disease resistance with proper management
Exceptional salt tolerance, able to proliferate with irrigation containing up to 5,500ppm of salt
Lower maintenance costs than other warm-season varieties
Superior cold tolerance, continuing to grow at temperatures as low as 4°C, making it especially well-suited for conditions throughout winter play in southern China and much of Vietnam
Deep greenish-purple color in dormancy, as opposed to the brown of Bermudagrasses and zoysiagrasses
Rapid rooting and establishment from sprigs
Distinct genetic profile separation from all other Platinum cultivars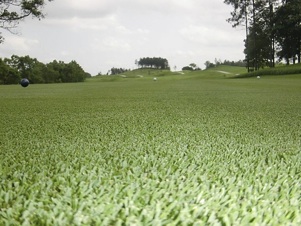 Platinum TE on the greens of Heshan Golf Club in Heshan, China
Platinum TE is available in China and Vietnam exclusively from Atlas Turf International, through their sole agents, Witgang Far East Ltd. All buyers of all Atlas turfgrasses have access to extensive technical support from Atlas and Witgang, and buyers of Platinum TE have access to Dr. Ron Duncan as well.
Platinum TE is harvested "to order" directly from certified fields at the best-run farms in the southeastern United States. There is no Platinum TE grown for sale in China, Vietnam, or elsewhere in Asia. All buyers of Platinum TE sign contracts to protect their investment and the quality and exclusivity of their world-class turfgrass.