BOLSTER Biostimulant

Stronger, healthier turf with 4% humic acid, 2% North Atlantic seaweed extract & 5% chelated iron
Bolster is a concentrated plant-growth supplement developed to prepare plants for improved growth in sub-optimal and stress conditions, such as heat, cold, drought, heavy traffic, and saline soils. North Atlantic ascophyllum nodosum seaweed is an excellent natural source of auxins, cytokinins, gibberillins, and trace minerals, and Bolster scientifically balances this with humic acids and a specially chelated, readily available iron to help plants develop to their optimum potential.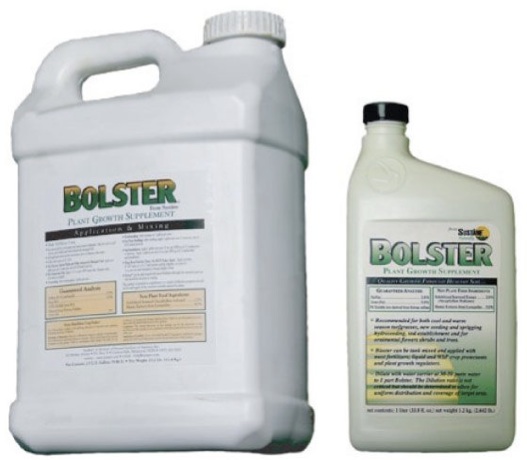 Proven in decades of field research, university testing, and customer use, Bolster:
Increases root mass and depth, and improves plant color, without a flush of topgrowth
Improves recovery from high traffic, wear, and low cutting heights
Prepares plants for stress conditions, and allows plants to recover faster from stress
Increases resistance to and improves recovery from diseases and parasitic nematodes
Increases tolerance to salts, whether in soils, irrigation water, or the environment
Improves drought resistance and recovery, by increasing plant's water absorption and retention and reducing the plant's wilting potential
Improves cold tolerance, and often extends the growing season of warm-season grasses by delaying dormancy
Increases chlorophyll production and delays leaf senescence (aging)
Enhances seedling establishment of new turf and overseeded sites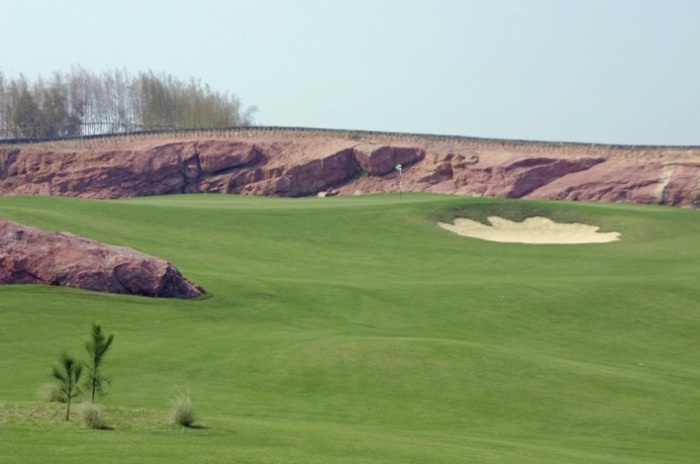 Lion Lake Guangzhou used Sustane on greens
Recommended Application Rate:
For Tees and Greens: 45-90ml/100m2, diluted with water at rate of 30 :1. Repeat every 2-4 weeks as needed. Can be tank-mixed with most fertilizers and control products. Always shake well before using.

Also Available: Bolster Granular 4-4-4 + 3% Fe + 4% Ca
All the advantages of Bolster, plus! Bolster Granular contains VAM mycorrhizal fungi, humic acid, seaweed extract, Aquazorb organic water-holding agent, and chelated iron, all carried on a Sustane Bolster Granular 4-4-4 + 3Fe + 4Ca. For use on all soils, in new turf establishment and during core aerification, and for tree planting, bedding preparations for bulbs, flowers, and shrubs, potting media, and transplant fertilization.