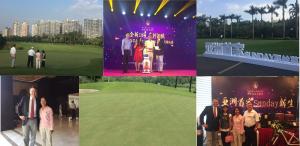 Congratulations to Sand River Golf Club in Shenzhen, China, the first course in Asia with Sunday Ultradwarf Bermudagrass greens – now open for play!
Sand River Golf Club reopened their renovated course with an all-day launch event on Saturday, October 15, 2016. The Opening Ceremony kicked off at 8:15AM with celebration and speeches at the club's staging area, followed by a friendly match with well over 130 members participating. Members then enjoyed a banquet at the Palm Spring International Club next door, featuring prizes both for the golf events and for the competition to select a Chinese name for Sunday, won by Mr. Guo Qing Hui 郭庆辉with"金鹰草", which translates as "Golden Eagle."
Witgang was invited by Sand River's general manager, Hunter Gao, and assistant manager, Yang Xingling, to attend their awards banquet, and supported the event with a cash prize for the winner of the naming competition, presented by Mr. Rob Glucksman, Managing Director.
Ms. Yang and Mr. Gao, Sand River's key decision-makers, visited multiple sites in the United States in person in late 2015 to research turfgrasses for their greens renovation, and selected Sunday to meet the expectations of their members in the challenging, year-round growing and golfing climate of southern China. A recent release from Sod Solutions Inc. of South Carolina, Sunday is a beautifully fine-textured Ultradwarf Bermudagrass that provides a consistently high-quality putting surface with significantly lower maintenance requirements than other ultradwarfs, even in the often wet and low-light conditions of Shenzhen.
Sand River, a 27-hole Gary Player design just over the border from Hong Kong, opened in 1995. Witgang was a major supporter and supplier of Sand River then, and is proud to continue its relationship with Sand River today. Witgang remains dedicated to bringing quality products as well as the best playing surfaces to every golf course in the region. Please contact us to discuss your own renovation project.
Congratulations again, Sand River!