Super Trimec®
Extend open season on hard-to-control broadleaf weeds.
Low-odor Super Trimec® Broadleaf Herbicide means greater efficiency … with few problems.
Super Trimec was developed for the professional and provides rapid and thorough foliar absorption, making sudden rain less of a threat. Even after a freeze, Super Trimec will remain active and provide control when the weather warms up. Super Trimec enables you to start earlier in the season …. or extend your season later than most herbicides.
Most golf courses that are running Super Trimec tell us that they are using it as a broadcast treatment only once per season and then using spot treatments for hardened-off summer weeds.
The bottom line is that Super Trimec is one of the most economical herbicides on the market in terms of cost-per-acre of immaculate, weed-free turf.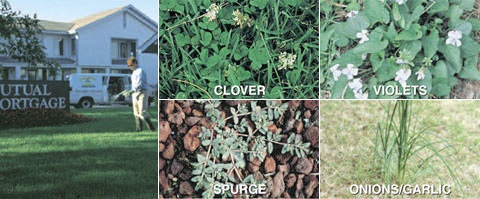 Features:
Low-odor formulation
Readily penetrates plant leaves
Specially formulated for cool-season grasses (except bentgrass) and certain warm-season grasses
Optimum cool-weather performance
Use in early spring, late fall, and for mid-summer spot treatments
Controls a wide range of tough broadleaf weeds: clover, spurge, oxalis, wild violet, wild onion, wild garlic and ground ivy
Effective on mature weeds
Provides rapid, visible signs such as stem twisting and leaf curling
Labeled for sod farm use