The world leader in soil surfactants, creating better playing surfaces with healthier turf and roots, more efficient use of water and fertilizer and pesticides, reduced disease, and lower electricity costs.
Whether for irrigation or as a carrier of fertilizers and pesticides, water is only useful if it does what you want it to do. Aquatrols makes that happen, with superior surfactant technologies in a range of scientifically proven products.
Aquatrols helps create consistently excellent golf courses worldwide by maximizing irrigation, fertilizers, and chemicals while conserving water and energy. Aquatrols water-management products improve the distribution of water, air, and nutrients through the rootzone, creating stronger roots and healthier turfgrass. At the same time, Aquatrols wetting agents reduce water requirements, pumping and electricity costs, and leaching and runoff of applied fertilizers and pesticides. Scarce irrigation water that evaporates or leaches out cannot be taken up by the turf, and likewise leached fertilizer and chemicals in that water mean wasted money, time, and effort.

The Aquatrols range includes: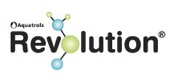 1. Revolution®: Aquatrols' top-of-the-line product creates exceptionally consistent, firm and dry putting surfaces. Revolution allows for uniform distribution of air, moisture, and nutrients through the rootzone, creating an environment for building strong roots and enhancing plant resilience while reducing turfgrass stress, surface wetness, and disease.

2. Dispatch® Soil Penetrant: Dispatch ensures rapid infiltration of irrigation and rainfall into the rootzone, reducing water requirements (and electric pumping costs) for fairways and roughs by reducing runoff and evaporation. Dispatch also maximizes the performance of fertilizers and chemicals by delivering them quickly into the soil with less loss to runoff.

3. Aqueduct® Soil Surfactant: Aquatrols' super-strength curative surfactant is formulated specifically to fix soil water repellency. Aqueduct gets rid of localized hot spots, dry spots, and even wet spots, allowing for the return of healthy turf stands in just weeks.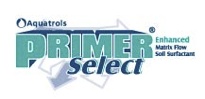 4. Primer® Select Matrix-Flow Surfactant: Primer Select promotes "matrix flow" of water in the root zone, creating consistent turf surfaces with uniform distribution of moisture, nutrients, and chemicals. Especially effective in drier climates, Primer Select slows water's flow through the rootzone without impeding drainage, reducing irrigation requirements, preventing localized dry spots, and improving turf's resistance to wear, heat, and drought.
5. Advantage Pellets & Applicator: A convenient supplement to a reg
ular Aquatrols. Surfactant program, Advantage Pellets ensure quicker water penetration of regular handwatering, relieving stressed turf and localized dry spots and hot sports. Advantage Pellets work with the Advantage Applicator, which easily screws on to hose ends for hand watering.