Pro-Balance 15-2-15 with slow-release N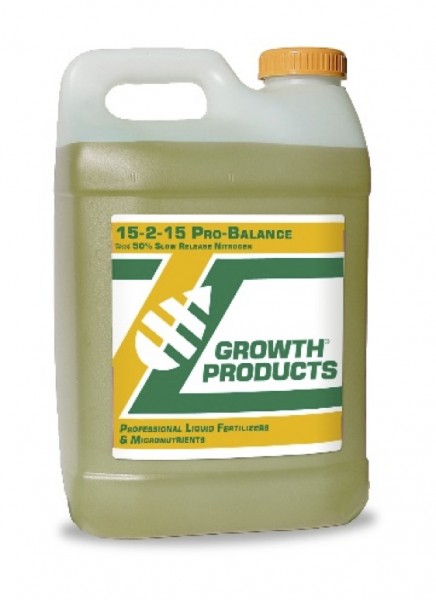 Pro-Balance 15-2-15, 50% MU + Micros
Pro-Balance 15-2-15 offers turf managers the ideal nutritional balance for all turf types, allowing great flexibility in a wide range of uses from regular program to supplemental nutrition to occasional top-up. The 50% slow-release liquid Nitrogen in Pro-Balance ensures no surge growth.
Features:
50% Slow-Release Liquid N from Methylene Urea (MU)
100% of K from Potassium Carbonate, immediately available and taken up quickly by both leaves and roots
Balanced N-K ratio for both foliar and root feeding
Chelated iron, manganese, zinc and copper for a complete package of key micronutrients
True clear solution requires no mixing or agitation
High-quality buffers allow blending with acids or alkalines
Guaranteed Analysis:
N ……………... 15%
of which, slowly available water-soluble Nitrogen ………. 7.5%
P2O5 …….…… 2%
K2O …….....…. 15%
Fe* ………….... 0.5%
Mn* …………... 0.05%
Zn* ………….... 0.05%
Cu* ..………….. 0.05%
* Fe, Mn, Zn, Cu from EDTA Chelates

Application rates on both warm- and cool-season turf:
Greens & Tees: 225ml-325ml/100m2 every 7-14 days
Fairways: 610-800ml/100m2 monthly
High-quality buffers allow Pro-Balance to be blended with alkaline or acidic materials. Dilute Pro-Balance with water before mixing with other nutrients or pesticides.