Essential® Plus 1-0-1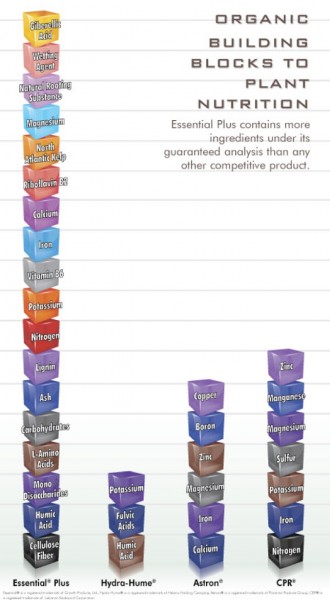 Compare Essential with other competitive products, and you'll see that their ingredient lists don't begin to compare to Essential's comprehensive list of synergistic products – all of which are 100% organic.
Essential® is a 100% natural organic liquid that works both as an amendment for soils and as a safe, effective root stimulant for all turf types. Essential gets the soil working for you, converting and releasing nutrients, saving money by unlocking the value of fertilizer already paid for that is sitting in the soil, and reducing fertilizer losses by holding more nutrition in the root zone. Derived from plant and vegetative products, Essential provides a rich source of organic matter plus sugars, kelp, 21 L-amino acids, and more that promote nutrient absorption, stimulate the plant's essential metabolic activities, and replenish soils that have been depleted of organic matter or have poor subsoil conditions and compaction.
Nature has gone through a long process of trial and error to refine the living organisms, processes and materials on Earth. Because one ingredient can boost the properties of others, Growth Products biochemists are constantly looking to create the highest-performing combination of ingredients. Essential is the best example of this science of dosage and mixing. Essential combines, in one formula, essential amino acids, sea kelp, humic acid, yucca extract, rooting hormones, fermented plant extracts, vitamins, enzymes, magnesium, calcium and more. Each ingredient is of the highest quality and was selected for its complementary and synergetic benefits.
Complete Formula For Optimal Efficacy
Essential is the most complete soil amendment and biological stimulant in the turfgrass industry. It unites in one, easy-to-use liquid formula an array of ingredients that will:
Improve rooting
Improve plant physiology
Feed beneficial soil microbes
Hasten seed germination
Improve a soil's nutrient holding capacity
Reduce excess salinity in soils
Reduce environmental stress
Increase disease resistance
Improve water penetration
Improve drought + heat tolerance

Humic Acid's Effect on Soils
Light Sandy Soils
In soils low in humus, Essential coats the sand particles, increases the cation exchange capacity (CEC), and increases the ability of the soil to retain nutrients and water.
Soils Rich in Humus
Essential creates a healthy soil structure with the proper flow of air and water, an improved cation exchange capacity (CEC) for better nutrient retention, and a healthy soil biodiversity that allows good microorganisms to flourish.

Soil pH
Essential buffers difficult soils to create a more neutral pH range, releasing nutrients that would otherwise bind tightly to soil particles in a soluble form for plant uptake.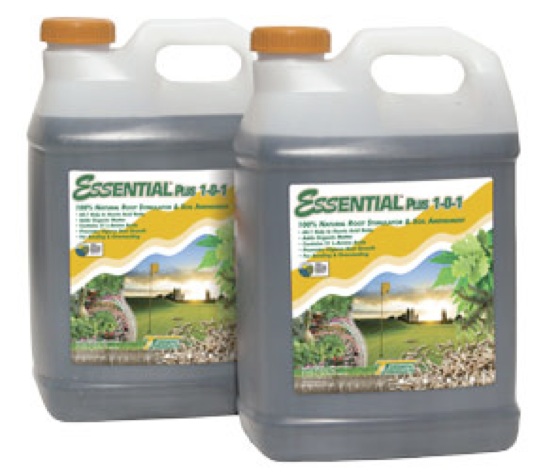 Features:
100% Natural Organic, registered in New York
100% soluble for spray applications
Root stimulator with 21 L-amino acids
Improves soil nutrient release & water holding capacity
Improves fertilizer & micronutrient uptake and overall turf vigor
Homogeneous solution for easy, uniform application
Contains a natural spreader/sticker

Guaranteed Analysis:
Total Nitrogen (N) 1%
Soluble Potash (K2O) 1%
Iron (Fe) 0.29%
Derived from: Kelp (Ascophyllum nodosum), Potassium Humate, Gibberellic Acid, Fish Hydrolysate, Plant Extracts, Simple and Complex Sugars, Iron Glucoheptonate
Also contains non-plant food ingredients:
Humic Acid 7%
Cellulose Fiber 10%
Kelp Extract 0.1%
Carbohydrates 2%
Natural Wetting Agent 0.0025%
Lignin 1.2%
Mono/ Disaccharides 3%
Ash Content 2%
Total L-Amino Acid 2.75% (see label for detailed listing)
Rivoflavin (B2) 28.97mg/kg
Vitamin B6 0.314%
Gibberellic Acid 0.001%
Natural Rooting Substance 0.01%

Application rates:
Greens and Tees: 95ml/100m2, every 14 days throughout growing season
Fairways: 125ml/100m2, monthly throughout growing season
Use higher rates in warmer seasons and on sandy, clay, or newly seeded soils; see label for full details.
Store in a cool, dry place, and out of direct sunlight. Always replace cap. Mix or shake well before use.