Dispatch – Product Information
Dispatch Gets Your Water To Where You Need It!

Dispatch moves water off the soil surface and leaves, through the thatch layer, and into the soil. Dispatch makes irrigation and rainfall work more efficiently, reducing loss to runoff and evapotranspiration, preventing the loss of costly water-soluble fertilizers and chemicals, and creating more consistent turf areas by improving the distribution of moisture and nutrition throughout the rootzone.
Irrigation Alone Isn't Enough
Water repellency can occur anywhere in your soils, but is most prevalent within the top inch or so. Decomposition of the thatch/mat layer, temperature fluctuations, and wet-dry cycles all contribute to the creation of a difficult-to-penetrate layer across the entire turf area.
When penetration is disrupted, water has a greater tendency to evaporate instead of entering the soil. The problem can be further compounded by sloping areas such as mounds and hillsides, where water is more likely to run off. Without sufficient moisture, these higher areas will dry out faster and need additional irrigation, while the runoff collects in lower areas, creating wet spots that contribute to poor playing conditions, promote soil compaction, and encourage disease.
Dispatch Puts Your Water to Work
Dispatch bridges the gap between getting water to the soil and getting the water into the soil. Whether your course is under constant water-use restrictions or you have plenty of water available, the amount of water you apply doesn't matter if your turf can't access it. Dispatch combats water repellency in the thatch/mat layer and the soil just below it, ensuring that applied water or rainfall penetrates quickly where it lands.

Dispatch works by breaking down the surface tension of water droplets. The effects of Dispatch allow water to penetrate far smaller pore spaces in soil, and to overcome the natural repellency that thatch and other organic matter have to water droplets. This improved flowability reduces runoff on slopes, allows water to move quickly into the rootzone lessening evapotranspiration from the soil surface, and distributes both water and the nutrients and chemicals it carries more evenly through the rootzone, resulting in healthier, more consistent turfgrass.
Dispatch makes sure water goes where you want it, giving you more consistent playing conditions and visual appearance from tee to green. Because Dispatch delivers water more efficiently into the soil, photosynthesis and other turf metabolic functions can be maintained with less water. The result is increased turf performance even under heat and moisture stress, and more dependable plant growth and playability course-wide.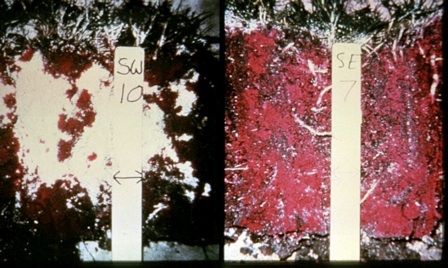 Untreated rootzone (left) vs. Dispatch treatment (right), using dyed water
In Scientific Terms:
Dispatch's unique technology improves turf uniformity by achieving and maintaining the moisture levels needed to maintain turf's physiological efficiency through consistent photosynthesis, transpiration, and related functions. Dispatch features a patented, synergistic blend of surfactant chemistries that shows dramatic improvement in performance over that of its individual components, working up to eight times faster than standard wetting agents and available in no other product on the market.
Using Dispatch Actually Saves Money – While Improving Turf Appearance & Playability
Aquatrols has demonstrated through independent university testing in the U.S. that Dispatch can save courses at least 20% on water use. Scientific trials in China, however, have shown Dispatch reducing water requirements by 40%-55%, while at the same time improving turf uniformity and course playability. Even at courses which do not have to pay for water, reduced electricity use by irrigation pumps and increased efficiency of water-soluble chemicals and nutrients (with reduced loss to runoff or carry out of the target application area) make Dispatch a money-saving choice – while at the same time improving the quality of the golf course.
Application Rates & Methods:
Dispatch can be applied once a month at 4 litres/hectare. Affordable and easy to use, Dispatch can be injected through irrigation systems or applied through a sprayer.
Inject for Best Results:
Dispatch is designed with injection in mind, letting you harness the power of your irrigation system to treat your entire course quickly and efficiently from one centralized location. Traditional spray applications on large turf areas can be costly and time-consuming – Dispatch does not have to be.
…… Dispatch Trial Result on next page > (for click through to P.4)