Primer Select Matrix-Flow Surfactant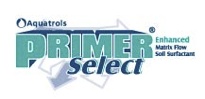 Primer Select is a high-performance soil surfactant that promotes "matrix flow" of water in the root zone, creating consistent turf surfaces through uniform distribution of moisture, nutrients, and chemicals.
Especially effective in drier climates or areas where water is scarce, Primer Select slows water's flow through the rootzone without impeding drainage. In sand-based soils, Primer Select promotes more complete hydration to compensate for the soil's inability to retain adequate moisture. In these ways Primer Select maximizes the use of available water, reduces irrigation needs, prevents localized dry spots, and improves turf's resistance to wear, heat, and drought.
Why Matrix Flow?
Water naturally follows the path of least resistance, leading to channelling or "fingered flow." These "fingers" act like funnels, directing and accelerating the flow of water below the rootzone, resulting in a lack of uniform wetting, inefficient use of fertilizers and other solutes, increased leaching – and unreliable, non-uniform turf conditions.
| | |
| --- | --- |
| Standard Rootzone | Primer Select® Rootzone |
Primer Select establishes "matrix flow" – the uniform downward and lateral flow of water and the fertilizers, pesticides, and other solutes it carries – in soil profiles, creating a consistent rootzone while preventing the development of water-repellent conditions. The result is Primer Select turf uniformity and quality.
Application rate: 125-180ml/100m2 monthly, for greens & tees.
Can also be applied at 125ml/100m2 every 21 days, or 210-270ml/100m2 every six weeks. Primer Select is safe throughout the entire growing season for all turf species, and in all climates.