Loveland Products – Signature
The combination of high performance, high quality, and competitive pricing makes Loveland Products Signature fertilizers a good value for any operation.
BCMU

Golf course superintendents and lawn care professionals have an easy choice when it comes to fertilizer: slow-release, Balanced Chain Methylene Urea (BCMU). BCMU's unique balance of short, intermediate and long methylene urea chains creates a product that provides the best performance at an outstanding value.
You can only find BCMU in Loveland Products' Signature brand fertilizers. BCMU consistently delivers even feeding, reliable performance and customer satisfaction, year after year. BCMU ensures optimal quality turfgrass by providing a consistent, uniform slow release of nitrogen. It is carefully balanced to avoid early growth flushes, provide superior color throughout the season, and maintain performance, especially where other products start to fade. BCMU's release is triggered by temperature and microbial activity, which means it works in harmony with plant demand, delivering nutrients when they are required. This makes for highly efficient feeding and promotes the development of a dense root system.

The Benefits of BCMU
Balanced feeding: Compared to other methylene ureas and even common coated nitrogen sources, the consistent release of BCMU avoids loading up the front or back end of the nitrification cycle and provides much greater control.
No surge growth: The longer methylene urea chains in BCMU slow down growth enough to avoid unwanted surges or flushes. This reduces mowing, which translates into labor and equipment savings.
Color that lasts: BCMU provides quick green-up with enough longevity to maintain rich, deep green color for up to 18 weeks, much longer than other methylene ureas and coated technologies.
Safe and reliable: The precise and steady release of BCMU promotes consistent results at any application rate or interval while building a solid nitrogen base. BCMU is engineered to minimize leaching and, with its low salt index, virtually eliminates burn potential.
Signature Greens Grade – with BCMU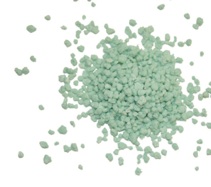 The right choice for steady feeding & optimal turf quality
1. Signature 15-0-30, 100% BCMU, 10.2 S, 0.6 Fe, SOP
2. Signature 18-3-18, 92% BCMU, 7.8 S, 1.3 Fe, SOP
3. Signature 18-4-18, 77% BCMU, 7.19 S, 3.12 Fe, 0.06 Mn, 0.06 Zn, 0.06 Cu, 0.03 B, 0.0006 Mo, SOP
4. Signature 10-4-20, All fast-release, 17.26 S, 4.0 Fe, SOP